Here Are some of my Custom Built Rabbit Hutches!
DUE TO HIGH DEMAND OF CHICKEN COOPS I AM CURRENTLY ONLY TAKING ORDERS ON CHICKEN COOPS<
RHONDAS FLEMISH SUPER HUTCH
This hutch was built for Rhondas three Flemish Does that she had bought from us. It is 10' long by 4' by 4' tall. This hutch also had three 30" by 30" dura tray, plastic trays. The trays were delivered to the customer in the box they were shipped in.
This pic shows the upper level of the hutch.
STEALTHS EXTRA HEAVY DUTY HUTCH!
This Hutch was made for our Flemish Giant Stealth. It has wood slatted floors, large pull out box (wire bottom) with hinged 1/2 lid, welded steel wire, whole end of cage opens, also has a florescent light inside with switch installed outside of hutch.
LXI'S HUTCH!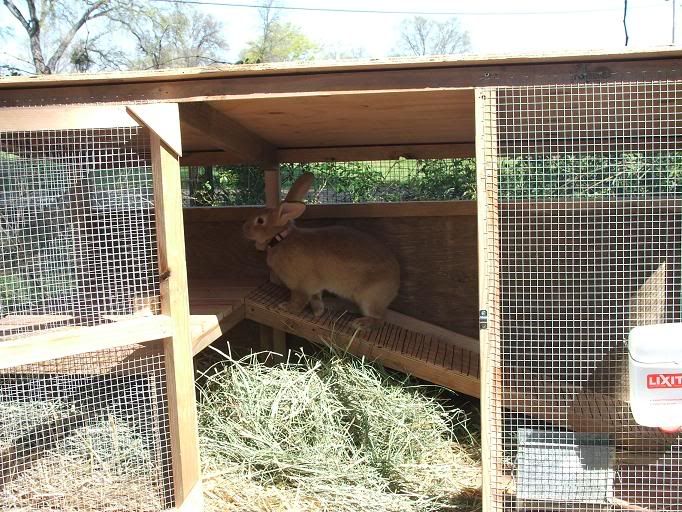 This Hutch above was built for one of our Flemish Does LXI! It has slatted wood floors, wooden ramp, wood shelf, and 1/2 x 1/2 cage wire. It has a large front door. Not quite as big as Stealth hutch but still big!
KAREN'S FLEMISH GIANT HUTCH!
This hutch was build to hold two 30" x 36" pans under the wooden/ wire floor. It is 6' 3 1/2" wide and 34 1/2 " deep it stands almost 6' tall on 4x4 p/t legs. The roof is 7' 4" wide and is covered with white corrugated PVC roofing that is 4' deep. It has a 2nd level inside with a 9" wide ramp built in. This was build for a really nice lady who bought one of our Flemish Giant rabbits and needed a new home for it. Thanks Karen !!
This hutch was built for a really nice young couple. They wanted a hutch for their rabbits that would be sitting on the ground outside. They wanted the rabbits to be able to go in and out by themselves when the doors were open. This design was drawn up on a computer program and e-mailed to me. It has a pair of 24" x 36" pans that sit under a wood and wire flooor for easy cleanup. The front has a 24" x 29" door for easy access to the inside. Each end has a 10" x 14" door that is held open with magnetic catches. The inside has a 2nd floor that is accesed by a doulbe landing and ramp system. I built a hide box that can be placed inside or outside as needed. This is one of my favorite projects yet , this was a fun build for me. This just goes to show what you can come up with with a little imaganation !!!