DUE TO HIGH DEMAND OF CHICKEN COOPS I AM CURRENTLY ONLY TAKING ORDERS ON CHICKEN COOPS SO PLEASE FEEL FREE TO BROWSE AROUND AND CONTACT ME IF YOU SEE SOMETHING YOU LIKE OR HAVE AN IDEA
WILL ADD MORE COOPS AND INFO ON ALL THE NEW COOPS SOON





KATHYS COOP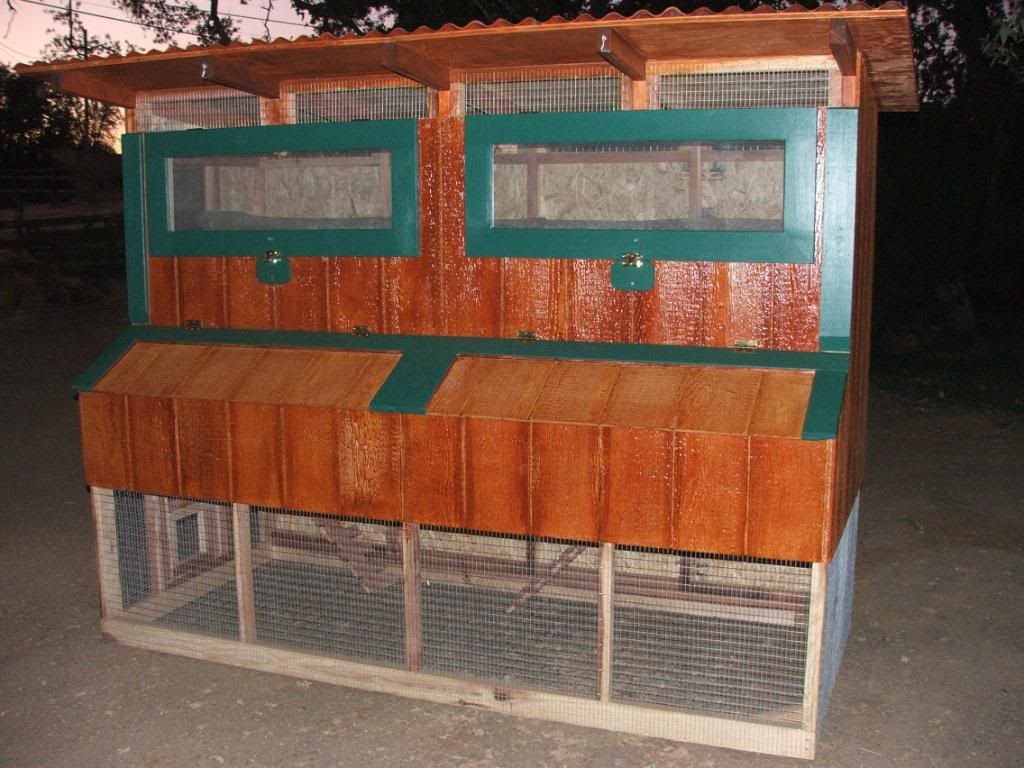 This Gorgeous Coop was made for our friends Kathy and Jay. Before they got this coop they had a small coop they had purchased at a feed store, the problem was the coop was falling apart and their chickens never had laid any eggs. Two days after their chicken had their new coop the chickens started laying eggs. They now get so many eggs they are giving away eggs to all their friends!
One of the hens checking out her new home right after coop was set up!
End of Coop showing all three doors including the door in the door, Kathy raises pygmy goats so therefore needed a small door chickens can come through but not the goats.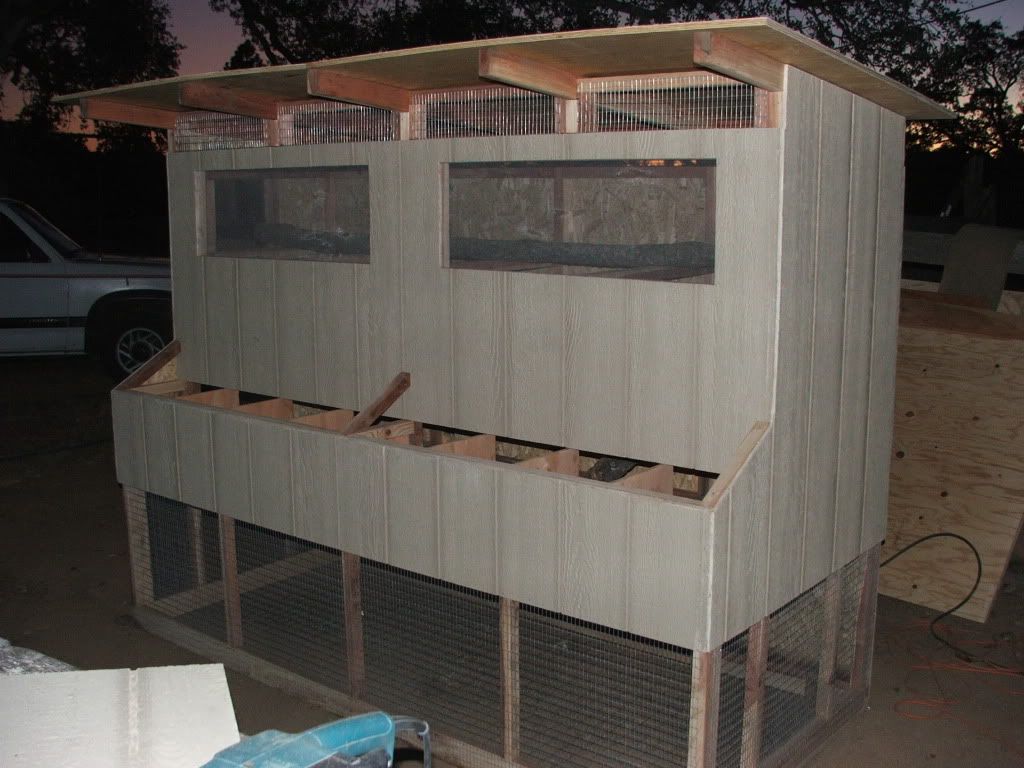 The coop in its earlier stages!
THE PLAY HOUSE COOP BY ROBERT
This one was built for a lovely lady named Melissa. She contacted me and asked me to make a few improvement to the design. It has several removable pieces to aide in cleaning and moving. I added an ouside door to the built in nesting box. It is fully insulated and has a 30 year comp roof that is removable as well.
Ready for its new home. It is sitting up on skids for easy moving during building. This coop is fully insulated with lighting, sliding windows, deep litter pan and it is secure from predators with double chicken wire on lower 4 ft!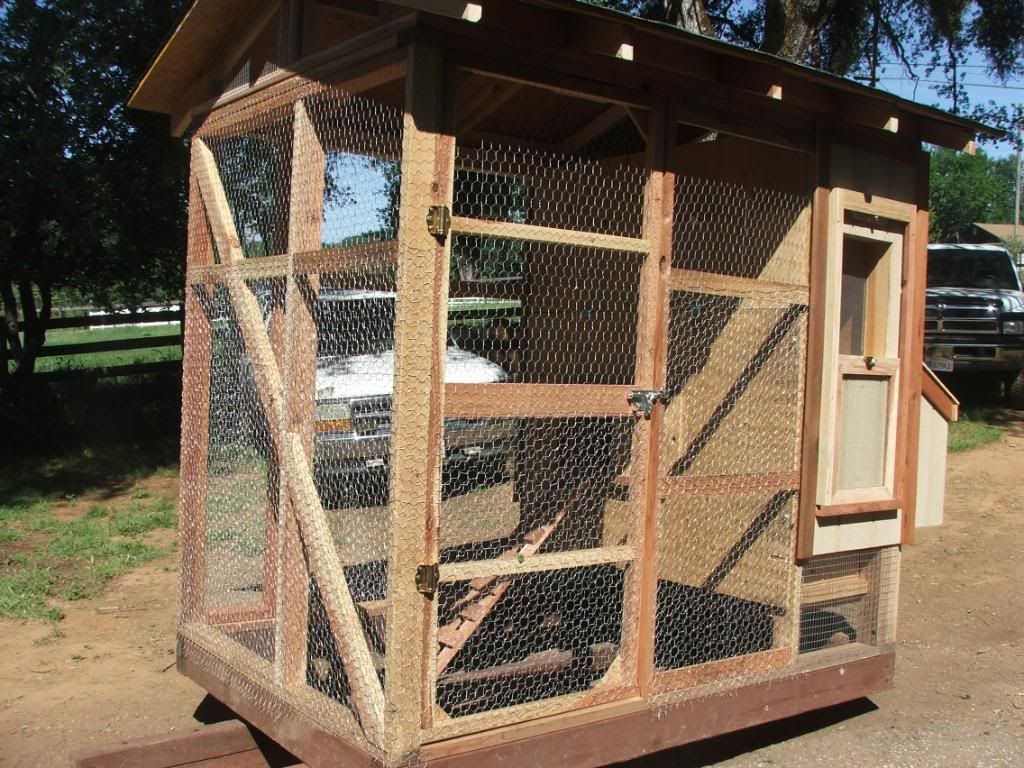 It also has a sliding door to keep the chickens secured at night!
Roof as it was being built, shows venilation, wire is also for the safety of the chickens!
Removable roof helps when having to move the coop!
Here we show the easy access of nest boxes from outside without having to disturb the hens!
As I said this coop if fully insulated so the chickens will never get cold!
BOBS SUPER SIZED SLANTED COOP!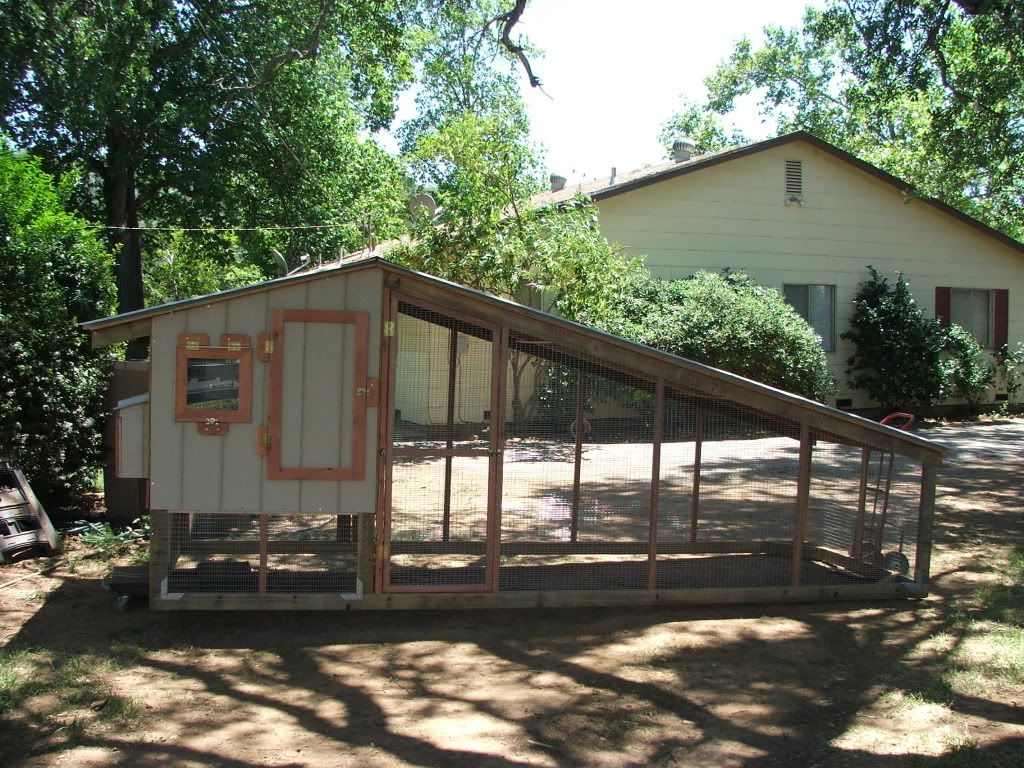 16' long 6' wide and 6' 2" tall at the top crown of roof!
The Pic above shows the frame of a normal sized Slanted coop sitting next to the super coop!
Loaded up in the horse trailer for the long trip home to Oregon!
2 STORY COOP
This coop is 4 ft square, has 5 doors for easy access, 3 nest boxes and the deep litter pan.
This a pic of the inside of the nesting area showing nesting boxes and deep litter pan built with 3/4 inch heavy duty plywood for long life.
Shows inside of nesting area with the chicken ladder that reaches down to the ground!
3' X 5' CHICKEN TRACTOR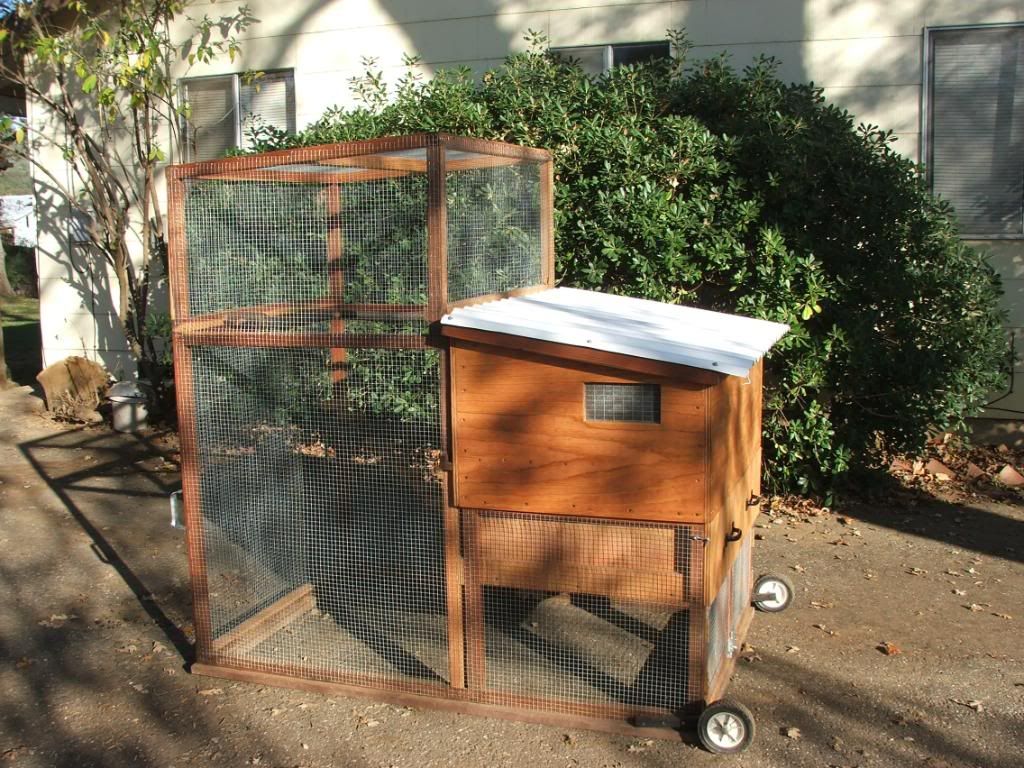 Very small and compact!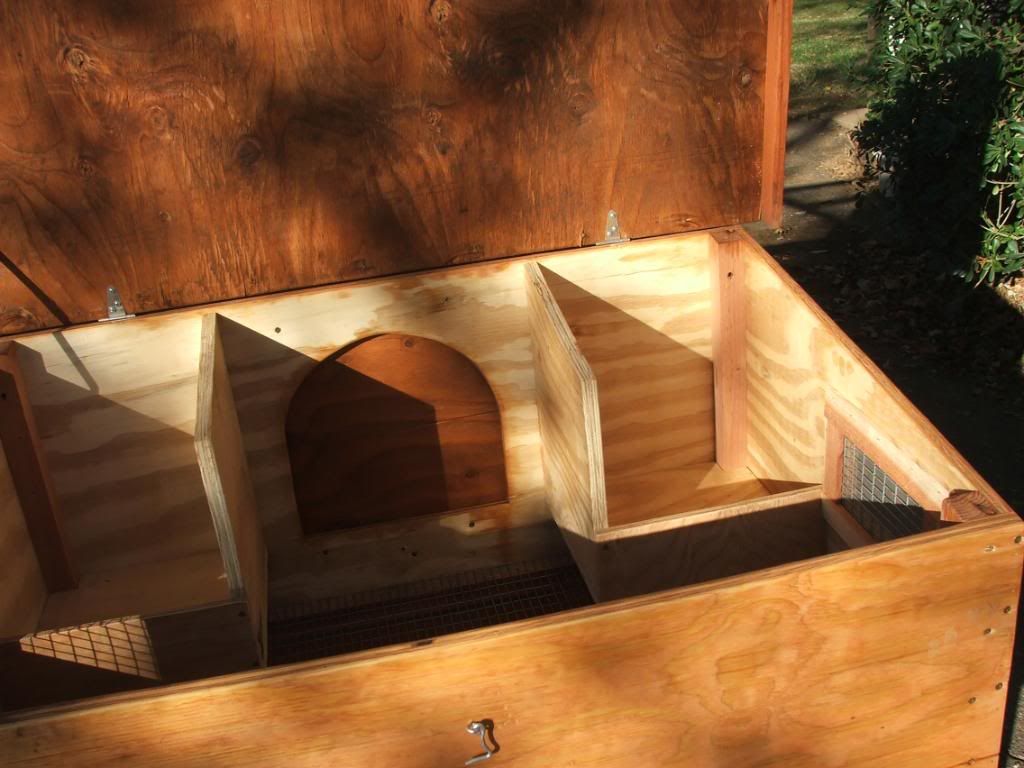 Two built in nest boxes. This is showing the slide coop door closed.
The coop from the side showing the deep litter pan, the side ventilation, the chicken ladder and the top door open!
BURLS 2 STORY COOP!
There is no run on this coop, very compact!
Total access to the entire coop with all 4 front doors open.
Coop with Chicken ladder down.
LOREN AND PATTY'S HOOP COOP
Also Known as a chicken Tractor! It is Easily moved, hence the wheels!
Inside the nesting area!
The Pygmy goat found it was easy to find the door, which you can slide close at night for safety. The end door drops down so you can actually walk into the coop!
PAULS COOP AND RUN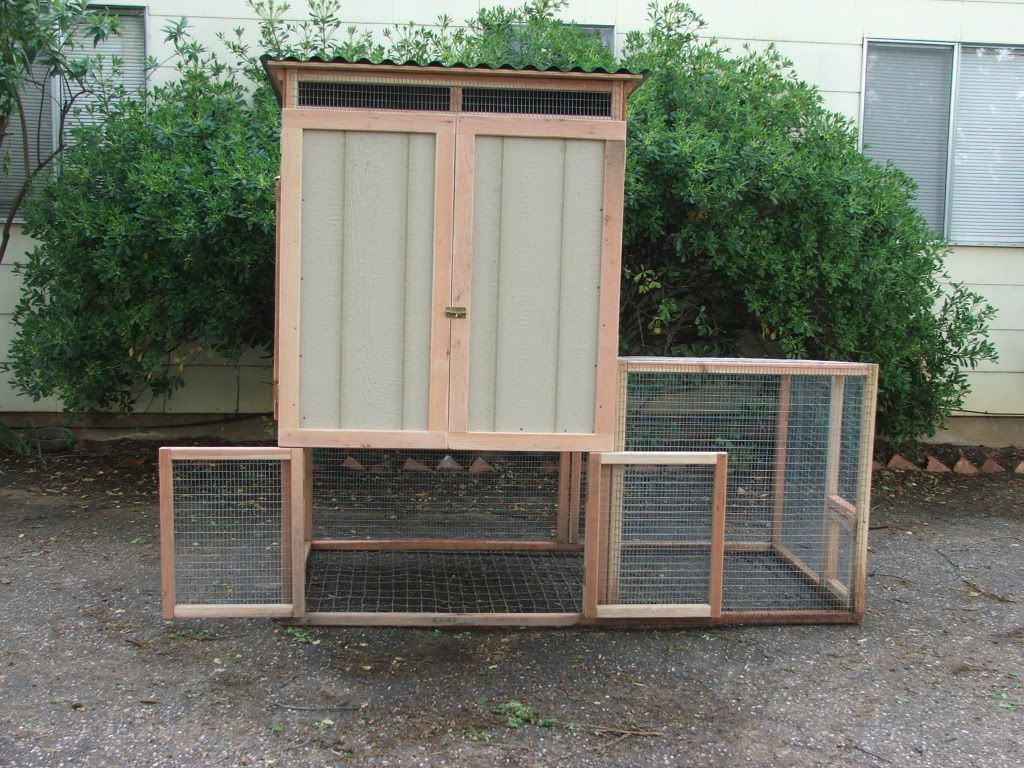 This is a 4 foot square coop with added run! It has a total of 4 nest boxes double stacked on one side.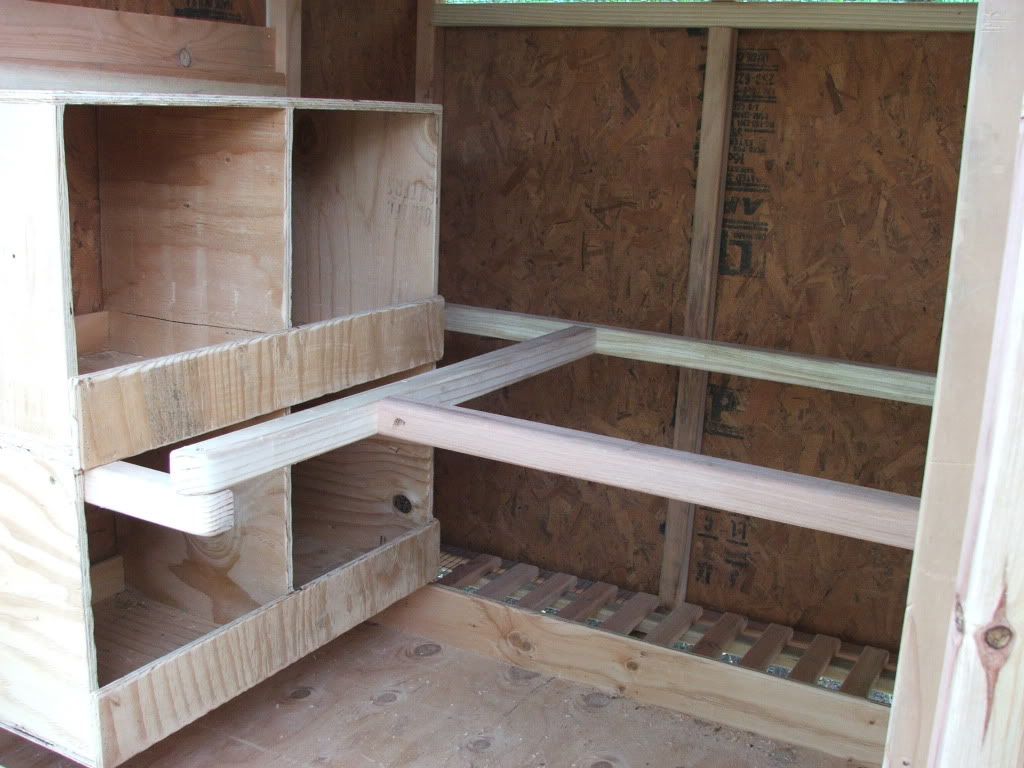 This gentleman helped design the plans for this coop! So therefore it is quite differnt then any of the others!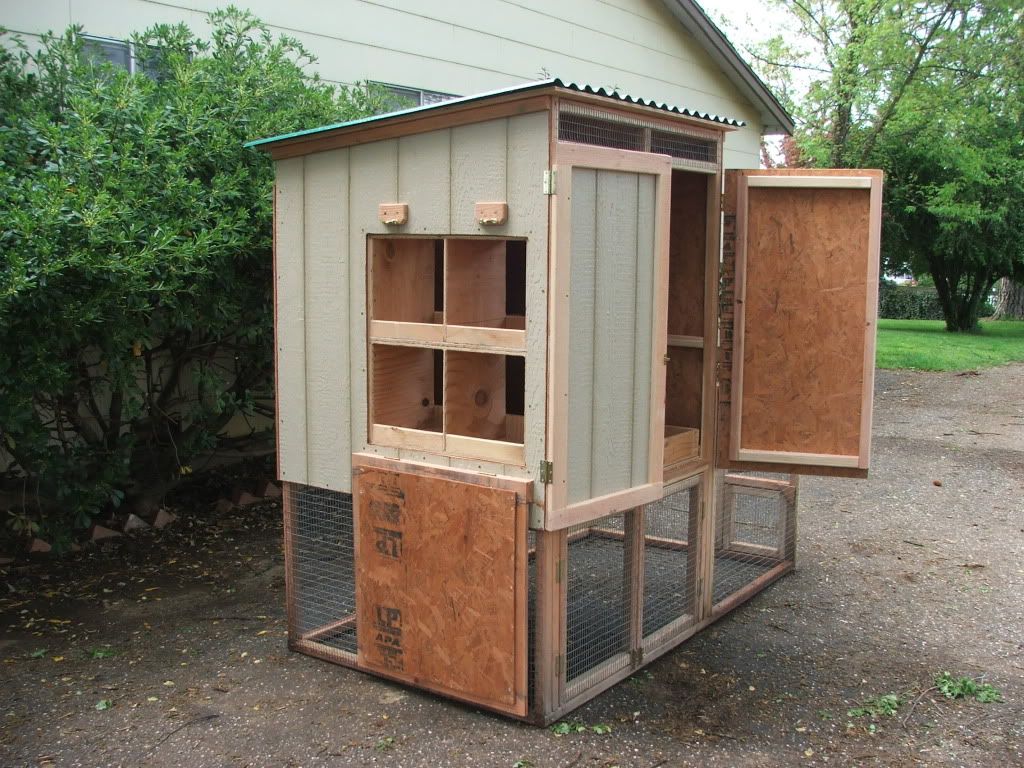 Nest box access door drops down due to customers lack of space for a swinging door.
DANS 4' x 6' OMISH COOP!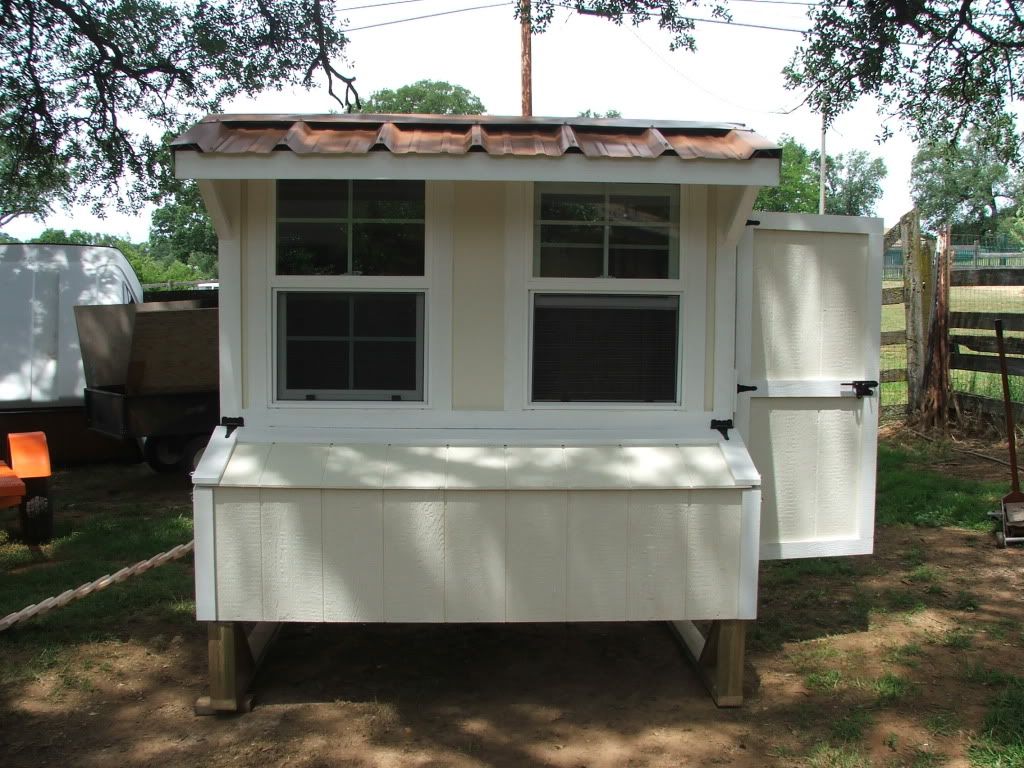 This is a large coop with no run. It has two 24" x 36" dual pane windows, is painted to match the customer house and has special order metal roofing (22 guage, taupe colored) to match their terra Cotta colored tile roofing on their home. Wire floor is added inside under the double roost bars. Part of the inside floor is removable for easy cleaning.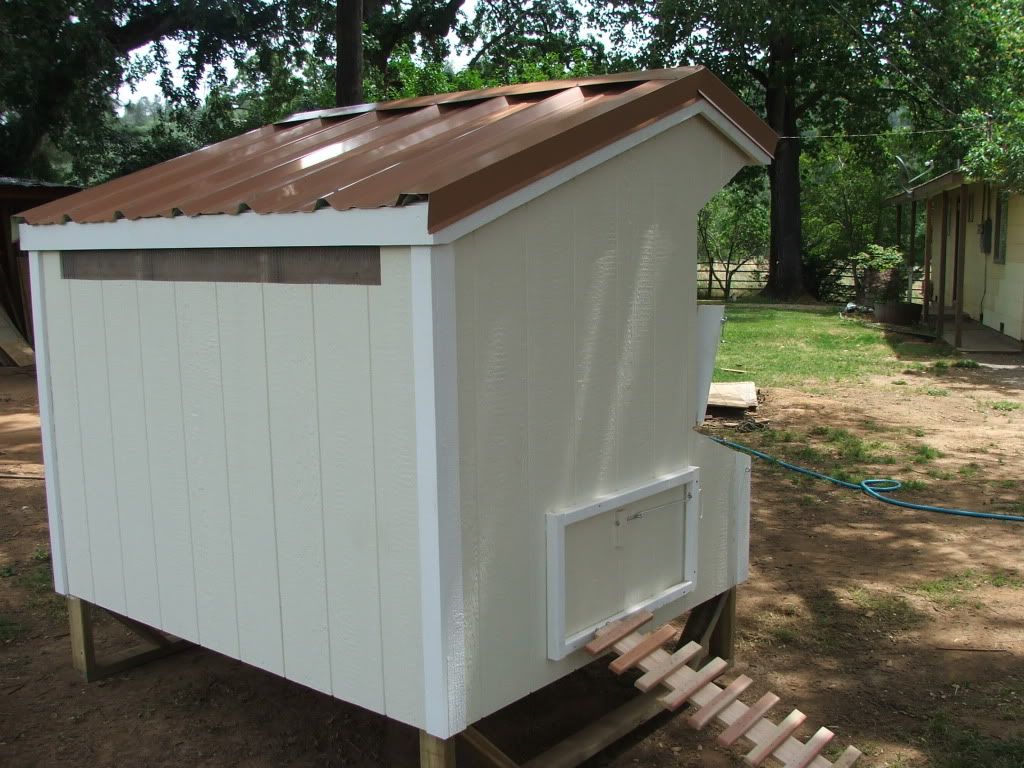 Back of coop showing the venting which is made to open and close as needed. You can also see the sliding side door for the chickens access, with the chicken ladder attached.
This view shows access to all 6 nest boxes!